Archive for the 'nature' Category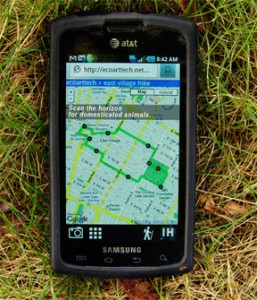 ecoarttech is an art/theory collaborative with goals to create a sense of place, calm, and stillness using digital technologies. Indeterminate Hikes, is an Android app that acts as your personal guide to ecological awareness of everyday environments. By importing the national-park discourse of sublime wilderness into local places, including suburban, metropolitan, and rural settings, and rethinking how we use mobile technologies, IH transforms unexpected places into sites of bio-cultural diversity and wild happenings.
IH slows down modern life's pace to activate consciousness of everyday locales as ecologically diverse spaces worthy of wonder, and to transform smartphones into tools of environmental imagination.
(Submitted by Leila Nadir)
No comments
In "Inner Forests", a user's shadow is augmented and expanded by the gentle growth of trees and shrubs. The longer the user stands still, the more growth occurs. If the user moves, the growth disappears quickly.
While the notion of augmenting the human form through shadow has been widely explored in new media art, what strikes me often is the frequency with which the expectation of immediate feedback and instant gratification is rewarded. With this piece, I was interested in the concept of slow interactions, interactions that take patience and investment from the user; that develop a personal relationship between the user and their shadow rather than constructs an interface where the shadow is merely a tool.
Slow interaction rewards the user for personal investment over time.
Inner Forests from Michael Kontopoulos on Vimeo.
(Submitted by Michael Kontopoulos)
No comments